Urinal Sanitizing Systems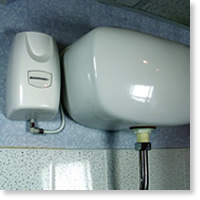 Eliminating bacteria is one of the core functions of a washroom solution. The PWS range includes everything you need to keep every aspect of the washroom as clean and bacteria-free as possible.
WC and urinal sanitizing systems are designed to clean pipes and urinals to prevent malodours and the build up of bacteria, limescale, and uric acid. PWS units sanitize areas where normal cleaning cannot reach, and are installed and fully serviced and maintained by Personal Washroom Services.
The urinal sanitizer provides an automatic and continuous touch-free hygiene maintenance program for toilets and urinals, 24 hours a day. It is the ideal system for maintaining well cared for washrooms - automatically and continuously cleaning all ceramic surfaces exposed to flushing, and actively attacking hard water and mineral deposits. It reduces and prevents scale and stains from forming and kills germs. It has a touch-free operation and eliminates the build up of odours.
Features
Lockable Dispenser to reduce theft
White unit to blend into decor of washrooms
A choice of refills, both fragranced or unfragranced