Toilet Roll & Tissue Dispensers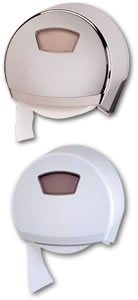 By law each toilet cubicle must be fitted with toilet tissue and a dispenser. Personal Washroom Services offer you a choice of dispensing systems which are both hygienic and cost-effective.
We also offer a excellent back-up service and deliveries to your door to make sure you always have sufficient stocks of toilet tissue.
Features
A choice of different colours and finishes to suit your washroom decor
A choice of extra-long rolls or individual sheets of tissue
Lockable dispensers to reduce pilferage
Dispensers have view windows to check on tissue level
High quality tissue which is kept clean, dry and protected from airborne bacteria