Airoma™

Aerosol Air Freshener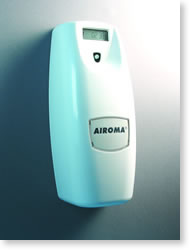 A clean, hygienic washroom is greatly enhanced by a fresh and pleasant smell. Our aerosol systems are designed to neutralise unpleasant smells and control unavoidable odours to deliver a fragrance that freshens and enhances your washroom 24 hours a day.
The Airoma™ Aerosol air freshening system uses smart chip technology to provide reliable and customised dispensing of odour control fragrances seven days a week. Each aerosol refill reliably delivers 3,000 metered sprays. A full range of fragrances are available (see below).
Airoma aerosols provide outstanding odour control properties with clean fresh scents that permeate the air with subtle fragrances and reassure washroom users that the room is clean, safe, and comfortable.
The Airoma is a very compact design and is very efficient. It is easily programmed to select the number of days until refill replacement, and the hours of operation such as 8, 12, 16 and 24 hours a day, 5-7 days a week.
Choice of fragrances
Regular maintenance
Eliminates unpleasant washroom area odours
Battery operated
Spray intervals can be adjusted to suit area
Choice of chrome or white finishes
Airoma Fragrances
Airoma frangrances conatin Airomanol™ odour counteractant to neutralise malodours and deliver maximum frangrance and presence.
Airoma fragrances are modern and offer style, type and impact options to match all preferences.
All Airoma fragrances are complex long lasting and combine with Airoma I.P.E. dispenser to provide a unique and supremely effective system.
Amber Shade
Babyface
Citrus Tingle
Cool
Exotic Garden
Floral Silk
Herbal Fern
Mystique