Sanitex®

Soap Dispenser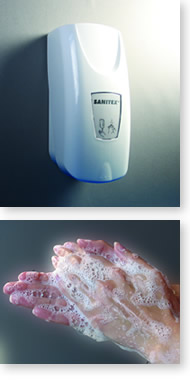 Handwashing is the activity that has the single largest impact on reducing the spread of disease.
The Sanitex® Generic soap dispensing system has a unique patented weldspout feature enabling a choice of refill options to be dispensed from one universal dispenser, allowing system costs to be fixed, and reducing stock holding.
Hinging at both top and bottom, the Sanitex® dispenser eliminates the need for a separate arm/elbow pusher, ensuring ease of use for your customer.
Sanitex® refills are easy to install with patented "sealed until installed" pouch refills ensuring servicing the dispenser is both quick and simple.
Features
Durable ABS plastic
Pleasantly fragranced refills
Dispenser available in white or chrome colour options
Refill Options
Sanitex® refills are available in high quality, pleasantly fragranced, luxurious liquid, spray or foam soap formats.
Also available is antibacterial liquid refill (red in colour) instant hand sanitizer - allowing hand sanitization without the need to rinse hands after use.