Safeseat® - Toilet Seat Sanitizer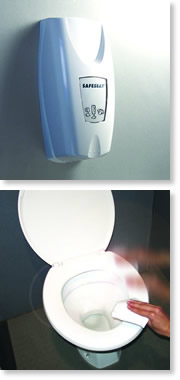 Of all the washrooms fixtures and surfaces with which skin contact is made in normal use, the toilet seat is undoubtedly the most heavily contaminated.
Even seemingly clean toilet seats harbour vast number of harmful bacteria. Easy to use, Safeseat® provides the individual with the opportunity to clean and sanitize the toilet seat effectively before use.
Features
Stylish robust cabinet
Effective cleaning and sanitizing
Ultra-quick drying chemical
Pleasantly perfumed
Keyed lock for added security
Specifications
Dimensions (248mm high x 115mm wide x 83mm deep)
3000 metered sprays per refill
Optimised spray pattern
Easy change refill pouch